| | | |
| --- | --- | --- |
| | | |
Kanibarazan Wetland
Kanibarazan Wetland
Kanibarazan wetland is an international wetland that was introduced as a no-hunt zone in 2006. This wetland was introduced as the first bird watching site in Iran in November 2007 by the National Committee for Nature Tourism and was registered in the Ramsar Convention in 2011.
With an area of more than 927 hectares, Kanibarazan wetland is one of the most important wetlands in the south of Lake Urmia and one of the most valuable habitats of migratory and resident waterbirds in the northwest of the country. It was initially a seasonal wetland, which was fed by water from surrounding springs and run off from agricultural land. However, by drainage canals that now supply water to the site throughout the year, it has become a permanent wetland.
Geographical Location:
This wetland is located at the southern side of Lake Urmia, 30 km northeast of Mahabad city, in the geographical coordinates of 45º 46' E 36º 59' N. It extends from the northeast of the Qara Dagh village to Garus Wetland. Qara Dagh, Befarvan, Qaleh Hassan Khvor Khvoreh, Dash Khaneh and Gapis are the villages around the lagoon where it is possible for the birdwatchers to stay. The southern part of the wetland is located at the foot of Qara Dagh (Black Mountain) and the mountain and Baba Haidar hill overlook it.
Elevation: 1275 meters
Access: The Tehran-Maragheh-Mahabad railway and the asphalt road near the lagoon have made it easy to access this bird-watching site.
Vegetation: Sedges, Common Reed, Tamarisk, Creeping Bentgrass, Pennycress, Euclidium, Matthiola deserticola, Yellow salsify, flixweed, broadleaf plantain,
Amphibians and Reptiles: different species of frogs, toads, sea snakes and pond turtles.
Mammals: Wild Boar, Red Fox, Grey Wolf, Golden jackal.
Fish: Common Carp, Crucian carp, Vimba Bream, Catfish.
Birds: This wetland is a safe haven for migratory birds every year, especially in autumn and winter. Due to its topographic location and the presence of reed beds, it receives the largest population of migratory waterfowl and shorebirds that migrate to Kani Barazan wetland to rest, feed and also for breeding, among which are endangered species and are considered rare species. The presence of dense reeds at the edge of the lagoon and its appropriate depth has caused many species of birds to visit the lagoon either permanently or at certain times of the year. The breeding of the birds in the first six months of the year has made it possible for bird lovers to visit Kani Barazan Wetland all year round and enjoy watching the birds. However, the best time to visit Kanibarazan is November, when a large number of waterfowl, wader, sparrows and other species gather together. The image of white stork nests in every corner, especially, due to the kind behavior of the locals, on the wooden beams of the villages, will never be forgotten by the visitors.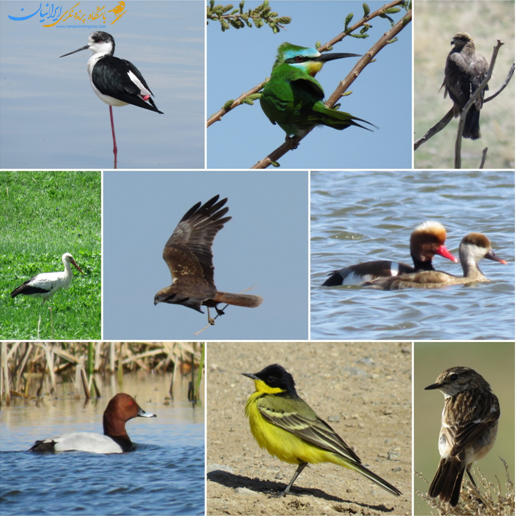 Click here to read the persian version
Volunteers who provide this information:
The list of birds that can be recorded in Gandoman pond:
| | | | |
| --- | --- | --- | --- |
| 1 | White-tailed Eagle | 76 | Great White Plican |
| 2 | Egyptian Vulture | 77 | Greater Flamingo |
| 3 | Long-legged Buzzard | 78 | Tundra Swan |
| 4 | Eurasian Sparrowhawk | 79 | Mute Swan |
| 5 | Northern Goshawk | 80 | Whooper Swan |
| 6 | Black Kite | 81 | White Stork |
| 7 | Eurasian Kestrel | 82 | Eurasian Spoonbill |
| 8 | Eurasian Eagle-Owl | 83 | Glossy Ibis |
| 9 | Little Owl | 84 | Great Cormorant |
| 10 | Eurasian Penduline-Tit | 85 | Pygmy Cormorant |
| 11 | Bearded Reedling | 86 | Great Bittern |
| 12 | Blue-cheeked Bee-eater | 87 | Little Bittern |
| 13 | European Bee-eater | 88 | Great Egret |
| 14 | Common Quail | 89 | Purple Heron |
| 15 | Black-bellied Sandgrouse | 90 | Little Egret |
| 16 | Common Wood-Pigeon | 91 | Cattle Egret |
| 17 | Rock Pigeon | 92 | Squacco Heron |
| 18 | Laughing Dove | 93 | Gray Heron |
| 19 | European Roller | 94 | Black-crowned Night-Heron |
| 20 | Barn Swallow | 95 | Graylag Goose |
| 21 | Bank Swallow | 96 | Ruddy Shelduck |
| 22 | Common Swift | 97 | Common Shelduck |
| 23 | Syrian Woodpecker | 98 | Garganey |
| 24 | Common Cuckoo | 99 | Green-winged Teal |
| 25 | Eurasian Hoopoe | 100 | Marbled Teal |
| 26 | Rufous-tailed Scrub-Robin | 101 | Red-crested Pochard |
| 27 | Spotted Flycatcher | 102 | Ferruginous Duck |
| 28 | Bluethroat | 103 | White-headed Duck |
| 29 | European Robin | 104 | Northern Shoveler |
| 30 | Gray Wagtail | 105 | Common Pochard |
| 31 | Western Yellow Wagtail | 106 | Mallard |
| 32 | White Wagtail | 107 | Northern Pintail |
| 33 | Citrine Wagtail | 108 | Eurasian Wigeon |
| 34 | Crested Lark | 109 | Little Grebe |
| 35 | Greater Short-toed Lark | 110 | Eared Grebe |
| 36 | European Goldfinch | 111 | Great Crested Grebe |
| 37 | Common Chaffinch | 112 | Eurasian Moorhen |
| 38 | Isabelline Shrike | 113 | Eurasian Coot |
| 39 | Red-backed Shrike | 114 | Slender-billed Gull |
| 40 | Lesser Gray Shrike | 115 | Caspian Gull |
| 41 | Whinchat | 116 | Black-headed Gull |
| 42 | European Stonechat | 117 | Armenian Gull |
| 43 | Siberian Stonechat | 118 | Black-winged Stilt |
| 44 | Isabelline Wheatear | 119 | Black-tailed Godwit |
| 45 | Northern Wheatear | 120 | Water Rail |
| 46 | Pied Wheatear | 121 | Common Snipe |
| 47 | Black-eared Wheatear | 122 | Pied Avocet |
| 48 | Great Reed Warbler | 123 | Common Sandpiper |
| 49 | Moustached Warbler | 124 | Marsh Sandpiper |
| 50 | Willow Warbler | 125 | Spotted Redshank |
| 51 | Lesser Whitethroat | 126 | Common Greenshank |
| 52 | Mountain Chiffchaff | 127 | Common Redshank |
| 53 | Clamorous Reed Warbler | 128 | Wood Sandpiper |
| 54 | Menetries's Warbler | 129 | Green Sandpiper |
| 55 | Marsh Warbler | 130 | Northern Lapwing |
| 56 | Savi's Warbler | 131 | Spur-winged Lapwing |
| 57 | Eurasian Reed Warbler | 132 | White-tailed Lapwing |
| 58 | Common Chiffchaff | 133 | Ruff |
| 59 | Red-throated Pipit | 134 | Little Stint |
| 60 | Water Pipit | 135 | Curlew Sandpiper |
| 61 | Corn Bunting | 136 | Lesser Sand-Plover |
| 62 | Reed Bunting | 137 | Kentish Plover |
| 63 | Black-headed Bunting | 138 | Little Ringed Plover |
| 64 | Yellowhammer | 139 | Little Tern |
| 65 | Yellow-billed Chough | 140 | Gull-billed Tern |
| 66 | Common Raven | 141 | Whiskered Tern |
| 67 | Eurasian Jackdaw | 142 | Caspian Tern |
| 68 | Eurasian Magpie | 143 | Common Tern |
| 69 | Rook | 144 | White-winged Tern |
| 70 | Hooded Crow | 145 | Collared Pratincole |
| 71 | European Starling | 146 | Pied Kingfisher |
| 72 | House Sparrow | 147 | Common Kingfisher |
| 73 | Spanish Sparrow | 148 | Pallid Harrier |
| 74 | Rock Sparrow | 149 | Eurasian Marsh-Harrier |
| 75 | Eurasian Tree Sparrow | 150 | Imperial Eagle |
| | | | |
| --- | --- | --- | --- |
| 1 | White-tailed Eagle | 76 | Great White Plican |
| 2 | Egyptian Vulture | 77 | Greater Flamingo |
| 3 | Long-legged Buzzard | 78 | Tundra Swan |
| 4 | Eurasian Sparrowhawk | 79 | Mute Swan |
| 5 | Northern Goshawk | 80 | Whooper Swan |
| 6 | Black Kite | 81 | White Stork |
| 7 | Eurasian Kestrel | 82 | Eurasian Spoonbill |
| 8 | Eurasian Eagle-Owl | 83 | Glossy Ibis |
| 9 | Little Owl | 84 | Great Cormorant |
| 10 | Eurasian Penduline-Tit | 85 | Pygmy Cormorant |
| 11 | Bearded Reedling | 86 | Great Bittern |
| 12 | Blue-cheeked Bee-eater | 87 | Little Bittern |
| 13 | European Bee-eater | 88 | Great Egret |
| 14 | Common Quail | 89 | Purple Heron |
| 15 | Black-bellied Sandgrouse | 90 | Little Egret |
| 16 | Common Wood-Pigeon | 91 | Cattle Egret |
| 17 | Rock Pigeon | 92 | Squacco Heron |
| 18 | Laughing Dove | 93 | Gray Heron |
| 19 | European Roller | 94 | Black-crowned Night-Heron |
| 20 | Barn Swallow | 95 | Graylag Goose |
| 21 | Bank Swallow | 96 | Ruddy Shelduck |
| 22 | Common Swift | 97 | Common Shelduck |
| 23 | Syrian Woodpecker | 98 | Garganey |
| 24 | Common Cuckoo | 99 | Green-winged Teal |
| 25 | Eurasian Hoopoe | 100 | Marbled Teal |
| 26 | Rufous-tailed Scrub-Robin | 101 | Red-crested Pochard |
| 27 | Spotted Flycatcher | 102 | Ferruginous Duck |
| 28 | Bluethroat | 103 | White-headed Duck |
| 29 | European Robin | 104 | Northern Shoveler |
| 30 | Gray Wagtail | 105 | Common Pochard |
| 31 | Western Yellow Wagtail | 106 | Mallard |
| 32 | White Wagtail | 107 | Northern Pintail |
| 33 | Citrine Wagtail | 108 | Eurasian Wigeon |
| 34 | Crested Lark | 109 | Little Grebe |
| 35 | Greater Short-toed Lark | 110 | Eared Grebe |
| 36 | European Goldfinch | 111 | Great Crested Grebe |
| 37 | Common Chaffinch | 112 | Eurasian Moorhen |
| 38 | Isabelline Shrike | 113 | Eurasian Coot |
| 39 | Red-backed Shrike | 114 | Slender-billed Gull |
| 40 | Lesser Gray Shrike | 115 | Caspian Gull |
| 41 | Whinchat | 116 | Black-headed Gull |
| 42 | European Stonechat | 117 | Armenian Gull |
| 43 | Siberian Stonechat | 118 | Black-winged Stilt |
| 44 | Isabelline Wheatear | 119 | Black-tailed Godwit |
| 45 | Northern Wheatear | 120 | Water Rail |
| 46 | Pied Wheatear | 121 | Common Snipe |
| 47 | Black-eared Wheatear | 122 | Pied Avocet |
| 48 | Great Reed Warbler | 123 | Common Sandpiper |
| 49 | Moustached Warbler | 124 | Marsh Sandpiper |
| 50 | Willow Warbler | 125 | Spotted Redshank |
| 51 | Lesser Whitethroat | 126 | Common Greenshank |
| 52 | Mountain Chiffchaff | 127 | Common Redshank |
| 53 | Clamorous Reed Warbler | 128 | Wood Sandpiper |
| 54 | Menetries's Warbler | 129 | Green Sandpiper |
| 55 | Marsh Warbler | 130 | Northern Lapwing |
| 56 | Savi's Warbler | 131 | Spur-winged Lapwing |
| 57 | Eurasian Reed Warbler | 132 | White-tailed Lapwing |
| 58 | Common Chiffchaff | 133 | Ruff |
| 59 | Red-throated Pipit | 134 | Little Stint |
| 60 | Water Pipit | 135 | Curlew Sandpiper |
| 61 | Corn Bunting | 136 | Lesser Sand-Plover |
| 62 | Reed Bunting | 137 | Kentish Plover |
| 63 | Black-headed Bunting | 138 | Little Ringed Plover |
| 64 | Yellowhammer | 139 | Little Tern |
| 65 | Yellow-billed Chough | 140 | Gull-billed Tern |
| 66 | Common Raven | 141 | Whiskered Tern |
| 67 | Eurasian Jackdaw | 142 | Caspian Tern |
| 68 | Eurasian Magpie | 143 | Common Tern |
| 69 | Rook | 144 | White-winged Tern |
| 70 | Hooded Crow | 145 | Collared Pratincole |
| 71 | European Starling | 146 | Pied Kingfisher |
| 72 | House Sparrow | 147 | Common Kingfisher |
| 73 | Spanish Sparrow | 148 | Pallid Harrier |
| 74 | Rock Sparrow | 149 | Eurasian Marsh-Harrier |
| 75 | Eurasian Tree Sparrow | 150 | Imperial Eagle |