| | | |
| --- | --- | --- |
| | | |
Seyed Babak Musavi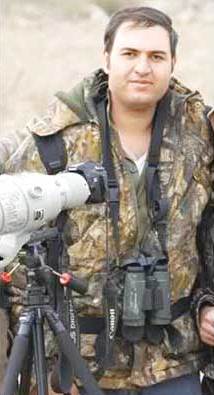 Seyed Babak Musavi was born on October 19th, 1977, in Bam, Kerman. He received his bachelor's degree in Environmental Studies from Bandar Abbas Azad University. He started photographing the wildlife in 2006 based on a personal interest. Meanwhile, he was also a free scholar at different universities and research centers in Iran, resulting in more than 40 projects of which he was either a contributor or a performer. The most important one was his role as a photographer and one of the authors in the Birds Atlas of Iran which was published in 2017.
Other projects:
Atlas of Mammals of Iran; Photographer
Atlas of Birds in Northern Khorasan Province; Performer
Atlas of Vertebrates in Bushehr Province; Photographer and author of the birds' section
Identification documents of protected areas of Khorasan Razavi Province
Investigation of species exposed to extinction in Hormozgan Province
The status of Hubre in Hormozgan
Studying the internal waters of Hormozgan
Awards in the field of photography:
Gold Medal of the PIAP Nature Section of the Nowruz International Festival of Tajikistan, 2017
Being among one of the eight selected pictures in the Nature and Wildlife Section of the Sony World Photography Awards in UK, 2015
Bronze Medal in the Khayyam International Festival of Nature, 2016
A worthy photo in the Khayyam International Festival, 2017
The second position of the biodiversity photography in the frame contest, held by the house of photographers of Iran and the Environmental Organization, 2008
To see the book " Wildlife of Iran, where and how to watch and photograph wildlife of Iran" published by Seyed Babak Musavi click here.